ALL NEW! Motion Visualizer DV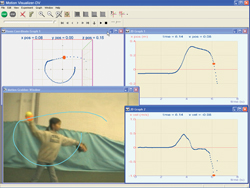 With Motion Visualizer DV one click on the video selects the colored object or objects to be tracked. Press Start and the software automatically tracks the chosen object or objects, capturing data and video. Begin analyzing your data linked with the saved video immediately.

Use either a webcam or, for more accurate timing and higher resolution, use an ordinary digital video camera plugged directly into a computer to gather motion data in a vertical or horizontal plane.
Features:
Web camera provides simple setup and low-cost (see requirements)
Equipa whole classroom with the most up-to-date motion sensing tool at reasonable cost
Patentpending image processing technology allows resolution to 1/10 pixel
Data rate up to 30 frames per second
Kitincludes Quick Start Guide, colored balls and stickers as targets, 2D camera alignment tool, and curricular activities (developed with physics and mathematics teachers). Multiple license kits include extra target balls and accessories.
Requirements
Computer:
Windows PC, 1.0 GHz or higher running XP with DirectX 9, 1024x768 graphics with acceleration, 256 MB RAM, Hard Disk (4 Gigabytes free recommended), USB or FireWire port. Use with a Digital Video Camera requires a 1.8 GHz processor and
512 MB RAM.
Video Cameras:
Works with most webcams. Support provided for Logitech QuickCam PRO 5000 (preferred) and 4000 (both use the USB port).
Digital Video Camera must produce NTSC or PAL DV output supplied through the FireWire or USB 2.0 port.
Tripod (recommended)